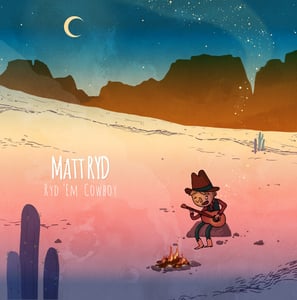 $

3.00
It's new EP time! The first Matt Ryd release of 2013 is a collection of songs that err more on the "rootsy/folk" side of things--some might even call it country. I once promised my dad that I would record a country EP--after writing the newest song on this album, I knew that it was time to make that promise come true.
Featuring three songs:
1) Nobody But Me (a live staple for a while that's getting a jazzed-up recording. So happy with how this turned out)
2) Long, Long Time feat. Mike Mentzer (I LOVE THIS SONG. Seriously, this may be my new favorite song that I've written. I'm SO incredibly happy with it!)
3) Marianne [Country Remix] (little known fact, but Marianne was originally intended to be a more country-ish song. We wound up redoing it for "Looking For Home", but I love this version too much to let it hide away on my recording drive.
Shipping is included. For just a few cents more than what you'd pay on iTunes, you also get the physical CD with gorgeous cover art by Whitney Gardner of Hey Whitney! Illustration (my all-time favorite illustrator and a wonderful human being).
If you want it signed, or a personal message, please just make a note in the PayPal comments (or shoot me a message via email or a social network).
I'm so excited for this album. I can't wait for you all to hear this cool deviation from my "normal" sound. The best thing about being completely independent? There's no one to tell me that I can't release songs in as many styles as I want. :-)
Woo! New music!! Yay!!